Are stink bugs edible?  I think most folks, myself included, would guess no … and we would be wrong!  Many stink bugs, specifically the Atizies taxcoensis, native to Taxco region of Guerrero, Mexico are delicious.   Though they can also be fried, dried, and roast – Jumiles are also one of the few edible insects that are traditionally consumed raw / live!  With a cinnamon-like smell, high iodine content, and super unique flavor, substituting Jumiles in Pre Hispanic cooking is practically impossible.   In addition to Iodine, Jumiles are also high in riboflavin, tryptophan, and niacin.  Jumiles are collected in the November and are otherwise not typically available during the rest of the year in Mexico, unless stored frozen.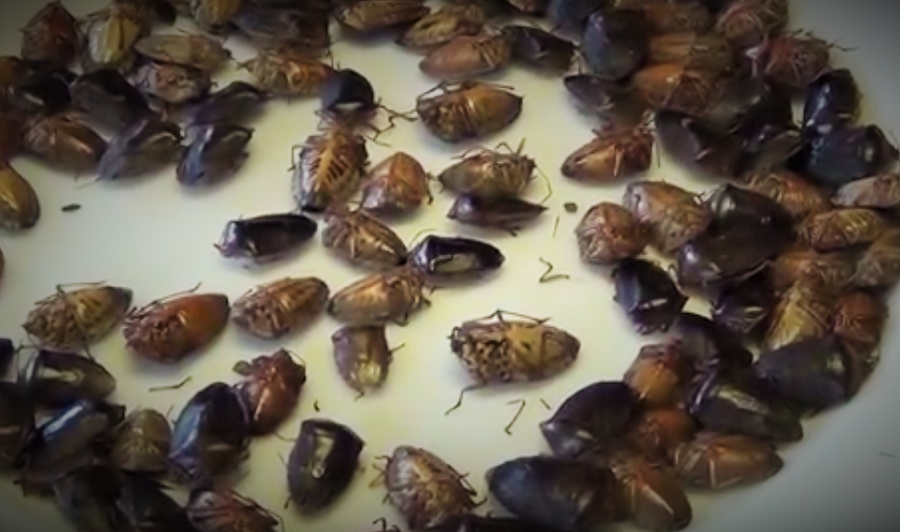 Gusanos, Chapulines, Escamoles, Jumiles, Chicatanas …  the central Mexican region of Oaxaca is blessed with a cornucopia of traditional edible insect dishes.  For those of us unfortunate enough to live north of the border, these treats can be really difficult to find.  Fortunately, you now have a friend in the Bug Running Business.  Since moving to El Paso, TX this year, I have learned all about traditional Mexican edible insects and the logistics of running this six-legged contraband across the border.  Hosting a Pre-hispanic dinner party?  No problem, just give me 1-2 weeks advanced notice and I will have Jumiles in your mailbox ASAP with volume and seasonal discounts.
Ready to Buy Jumiles?
Making Jumiles Salsa
Please like, share, comment, and subscribe. Comment what you would like to see next. Deja tus comentarios ,conparte, subscribete, y comenta que te gustaria ver en los proximos videos.
Collecting Jumiles in Taxco
Cosechando Jumiles