Like the idea of eating insects but don't want to see them?  Meal worm and cricket flours are a great way to enhance the nutrition of a wide variety of dishes, adding a subtle nutty flavor.  Though the idea of eating insects has been existed in North America for many decades, supply of safe to eat, food-grade edible insects has historically been in short supply.  As this cricket flour review now demonstrates, this industry has radically expanded in recent years and is still growing.
What is cricket flour?  Exactly what it sounds like, whole crickets (or meal worms) ground into a fine powder.  Different manufactures use a variety of processes to produce this fine-grain flour including roasting, dehydrating, and freeze drying whole adult or juvenile crickets.
Are cricket powder and cricket flour the different?  No!  Both terms mean the same thing, but this industry has yet to settle on a particular term.  I use cricket flour throughout the website, for the sake of simplicity.
Our meal worm and cricket flour review lists all available information from various manufacturers with shipping options available to the US and Canada.  This listing will continuously be updated as more certifications, labels, retailers, and information become available.
Once you decide on an insect flour to go with, be sure to check out our meal worm and cricket flour recipes.  Cooking with cricket flour is very similar to using nut flours and makes a great addition to any paleo or gluten-free diet.
All product ratings are customer based, so don't forget to rate the cricket flours you've tried!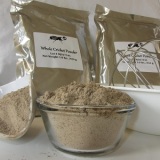 All Things Bugs is a US-based wholesale manufacturer of cricket flour that also offers one pound sample bags for direct sale to consumers.  All Things Bugs cricket flour features a patented production process.   This company was founded by Dr. Aaron T. Dossey and is currently located in the state of Georgia. To purchase one […]
0 comments