All Things Bugs is a US-based wholesale manufacturer of cricket flour that also offers one pound sample bags for direct sale to consumers.  All Things Bugs cricket flour features a patented production process.   This company was founded by Dr. Aaron T. Dossey and is currently located in the state of Georgia.
To purchase one pound sample bags of All Things Bugs Cricket Flour, visit All Things Bugs website.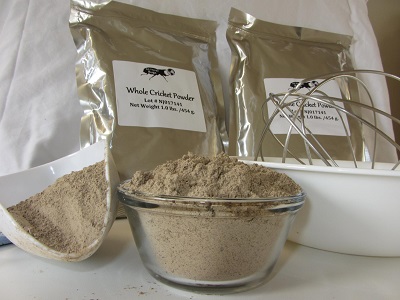 Product Origin
Crickets are raised and processed in the US
Cost
Retail pricing tstarts at $40 per pound for 1 pound sample bag
Wholesale pricing starts at $35 per pound Wholesale (min order 50 pounds), but volume discounts are possible
Processing
They feature a special proprietary patented process.  According to All Things Bugs, this process uses less heat and provides a substantially higher quality product than roasted and ground crickets – better aroma (very neutral), much lighter color, more neutral flavor, and finer particle size (more fluffy powder).
Cricket Diet
Crickets are fed commercially available specially formulated cricket feed, either conventional or Certified Organic (depending on if it's for the Organic or non-organic version of our product).
Measurement of Powder Fineness
Whole Cricket Powder = 400 micron max particle size
Finely Milled Whole Cricket Powder = 100 micron max particle size