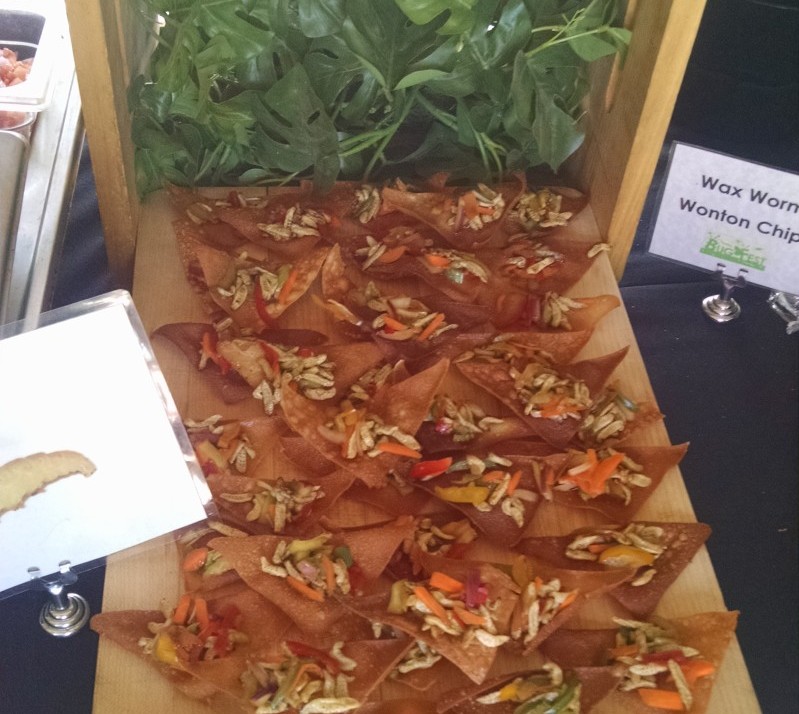 Pairing crispy wontons and wax worms sauted in a delicious Asian sauce, this wax worm recipe feels like something from fine dining restaurant in China – not what you'd find on a weekend trip to your local zoo.  Executive chef Michael Gullien prepared this wax worm recipe for the 2015 El Paso Bug Fest and it was a hit with both kids and adults.  These little bee bandits are one of my favorite edible insects, but their unfortunately hard to come by in the US.  To remedy this culinary travesty I will begin production of food-grade wax worms in the fall of 2015.  Please contact me to preorder.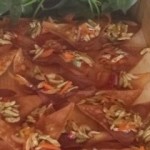 Cut egg roll wrappers into quarters (to make triangle shape), then deep fry in at least 2 inches of vegetable oil. Fry until both sides are golden brown, flipping once.

To prepare the sauce, mix teriyaki sauce, soy sauce, ground ginger, pineapple juice, and brown sugar in a medium sauce pan. To reduce sauce heat on medium-high heat then once large bubble begin to form, turn heat to low. Cook until sauce has a syrup-like consistency.

While sauce is reducing, rinse thawed wax worms, julienne vegetables and mince garlic.

Over a medium-high heat, saute garlic in sesame oil until browned then add wax worms and continue to saute for 2-3 minutes.

Add a onion, celery and carrots and saute for 1 min.

Add sauce and reduce for another 3 min.

Spoon waxworm - veggie mix onto wontons and enjoy!