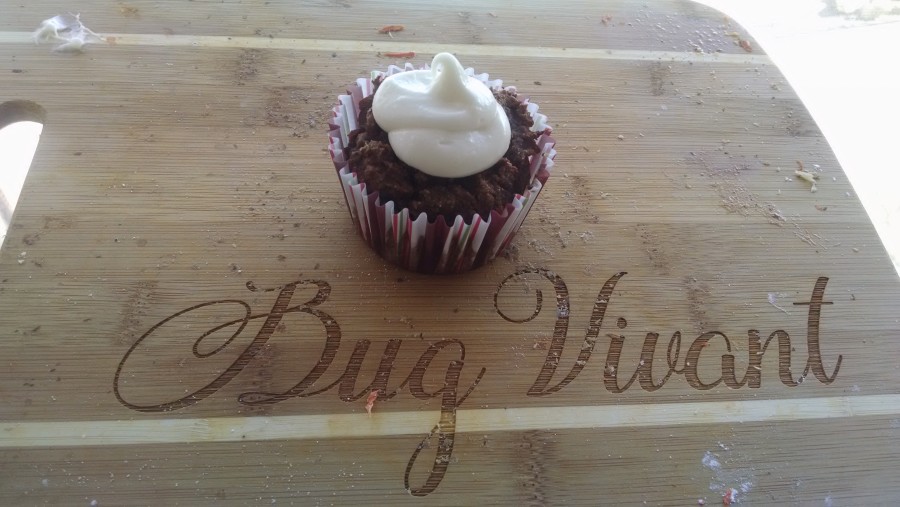 Carrot cake is one of those magical desserts that somehow combines dessert with a notion of nutrition.  Unfortunately, most carrot cakes recipes fall short on the later part of this arrangement – they may have a few carrots, but they generally lack anything else besides carbs.   Though you'd never know it, this gluten-free cricket carrot cake packs a whopping 24% of your daily protein, 32% of your daily fiber, and 133% of your daily vitamin A in just one cupcake!  Frosting aside, this gluten-free carrot cake is refreshingly free of refined sugar, wheat flour, and dairy.
If you do decide to walk on the wild side and add a dollop of traditional cream cheese frosting, you'll transform this healthy gluten-free carrot cake into a decadent cupcake.  I haven't played with vegan or paleo cream cheese frosting recipes – it seemed a little too sacrilegious, however, this one gets good reviews if you're in need.  Please let me know if you have healthier frosting ideas.  Adding the traditional cream cheese frosting described below will add about 100 calories to the nutritional profile of each cupcake … calories that are well worth it in my honest opinion.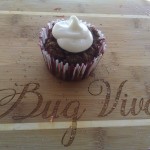 Servings

Prep Time

12

cupcakes

15

min
Servings

Prep Time

12

cupcakes

15

min
Servings

Prep Time

12

cupcakes

15

min

Servings

Prep Time

12

cupcakes

15

min
Preheat the oven to 325º. In a large bowl, whisk together the barley flour, coconut flour, cricket flour, baking soda, cinnamon and salt.

In a small bowl, whisk together the eggs, applesauce, oil, and maple syrup.

Stir in the carrots and walnuts, then add to the dry ingredients. Stir to thoroughly combine. If the batter is needs to be thinned, add more applesauce.

Pour the batter into a paper-lined cupcake tin and sprinkle with brown sugar. Bake for 25 minutes, or until a toothpick stuck in the center comes out clean, then set aside and cool in the tin for 30 minutes.

Meanwhile, in a large bowl or stand mixer, whip together the butter, cream cheese and powdered sugar until smooth.

Once the cupcakes are completely cooled, spread with frosting.