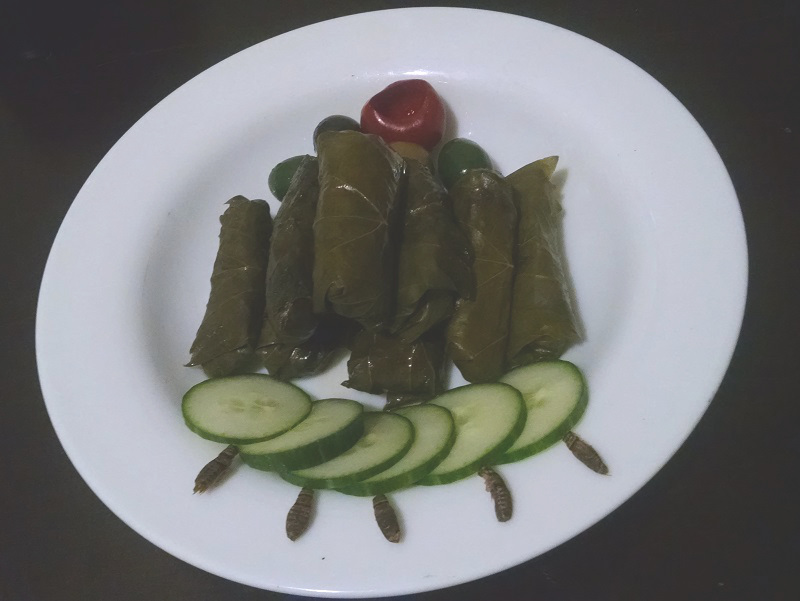 Need an eye-popping, dogma-smashing, delicious summer party recipe?  You've come to the right place.  With their nutty, crunchy, earthy flavor – whole roast crickets make the perfect, protein-packed addition to your classic greek dolma recipe.  This cricket dolma recipe is a great way to introduce less daring guests to whole insect cooking.   An un assuming muncher probably wouldn't even know their dolma contained crickets!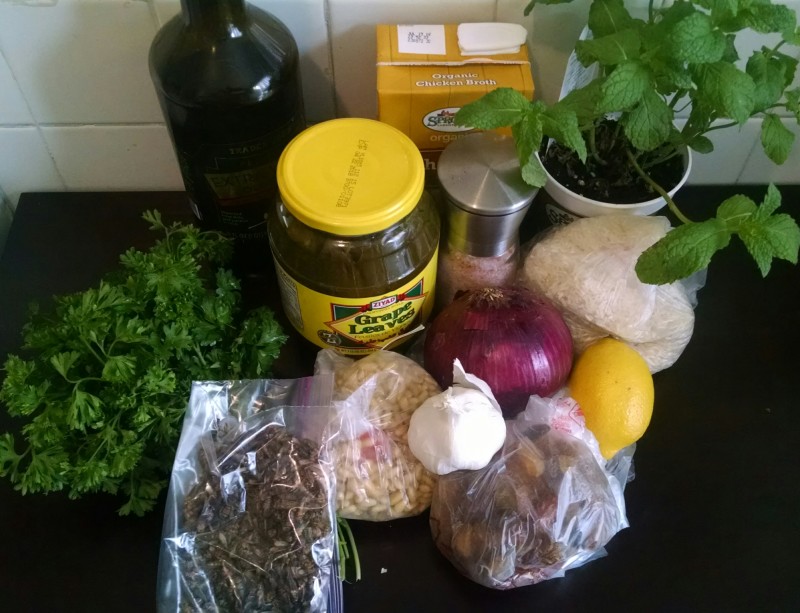 Crank up your outlaw country or old-school gangster rap and get ready to roll up some something awesome – greek cricket style!  For the full Greek-Ento experience, serve these dolmas with some buglava!  Don't blink twice at this cricket dolma recipe, just one dolma packs 21% of your daily Vitamin A which supports vision and your immune system.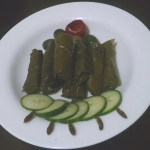 Servings

Prep Time

35

dolmas

30

min
Servings

Prep Time

35

dolmas

30

min
Servings

Prep Time

35

dolmas

30

min

Servings

Prep Time

35

dolmas

30

min
Rinse grape leaves in cold water, then quickly blanch in boiling water. Remove leaves immediately from boiling water and rinse with cold water until leaves return to room temperature. Begin setting aside dumpy, unuseable leaves.

Toast pine nuts over medium-high heat until browned, not burned. If crickets have not yet been roasted, toast crickets with pine nuts.

Dice onion and finely chop garlic. Saute onion and garlic in 3 tablespoons of olive oil for about 4 min or until tender. Be sure to save all of your vegetable scraps to line the steaming pan.

Add chopped mint, parsley - cook about 1 min. Add chopped yellow raisin, crickets, pine nuts, salt, and rice. Stir to coat rice in oil, cooking about 1-2 min.

Add 1 cup of veggie or chicken broth and 1/3 cup of water to rice. Continue to cook over medium-high heat until most of the liquid is absorbed. Dont worry about some remaining liquid at the bottom, this will absorb as the rice mixture cools. Let rice mixture cool about 10 -15 min.

While the rice mixture is cooling, line the bottom of your largest sauce or deep-bottomed saute pan onion butts, lemon rind, parsley stems and any other mild and savory vegetable waste you have available. If not enough is available from the recipe, use sliced potato to cover the bottom of the pan.

Add a layer of reject grape leaves over the vegetable waste. Now you have a nice insulated organic layer to protect your dolmas from direct heat.

Lay leaf vein-side up on a clean flat surface. Place finger-sized amount (about 2 tsp) of rice filling in the lower center of the leaf.

Think of these as grape burritos: roll the bottom of the leaf up, over the rice mixture until it is just covered once.

Fold the sides in toward the mixture.

Continue to roll upwards, making sure sides remain tucked into the dolma to prevent filling leakage. This will take a few tries to perfect, but you'll have the knack in no time. Dont worry about dolma rolls being snug as a bug, remember the rice will expand quite a bit.

Place each dolma on the cozy veggi-grape leaf bed you've created on the bottom of your large saute pan. Pack them in tight as you dont want to have more than two layers of dolmas in your pan.

When you've filled your pan with dolmas, drizzle dolmas in a little extra olive oil and half of the lemon juice. Cover the first layer of dolmas with another layer of grape leaves, before adding your second layer of dolmas.

Cover your second layer with more grape leaves, then finally place an inverted heat-safe ceramic plate on top of your dolmas to trap heat and prevent any sneaky dolmas from opening. Do not attempt more than 2 layers of dolmas in a pan, as this may result in uneven rice cooking.

Bring 1.5 cups of broth to boil, then fill your tea kettle and set it to boil as well. Douce your dolma pot in boiling chicken broth, then add water until the liquid line reaches the lip of the inverted ceramic plate. Add any remaining lemon juice.

Heat dolma pot for 45 min to an hour. Make sure to test a dolma from the top to make sure that rice has fully cooked before you remove the whole pot from heat.

Remove dolmas and allow to them to come to room temperature before serving. I love to munch on dolmas with sliced cucumber, tomato, olives, pita, hummus, and tzatziki dipping sauce. Dolmas will stay tasty in your fridge for up to 4 days.
These little guys pair great with Pinot Noir!