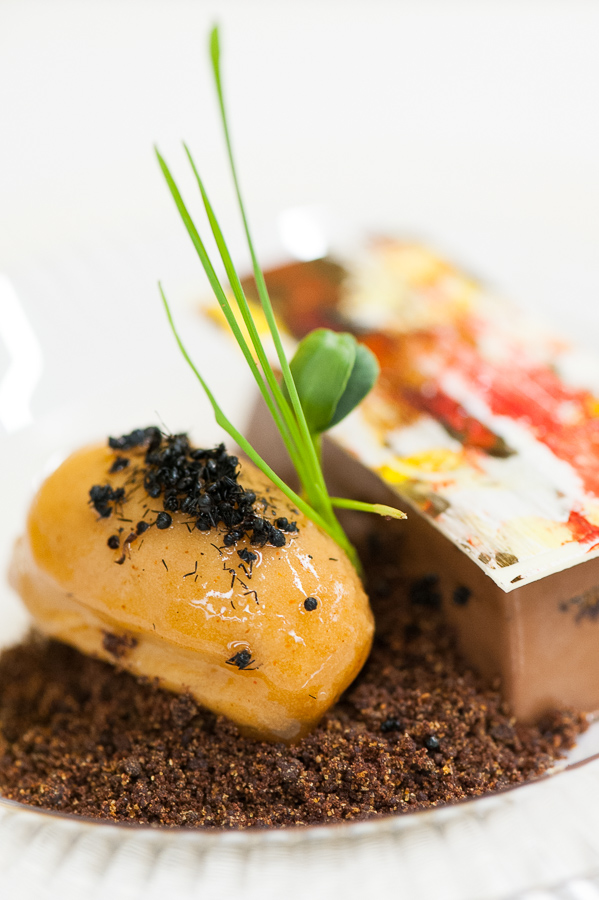 Sweet, tart, creamy and crunchy.  This decadent chocolate cremeux will blow your mind and expand your culinary horizons.  With whole crickets in the cremeux, cricket flour in the chocolate cookie crumble and aromatic black ants to top the sorbet this cremeux combies 3 genera of edible insects.  Though any tart sorbet will do, tamarind is amazing if you can get your hands on it.  This dish, created by Ernest Lopez, Pastry Chef of Eilan Hotel was served as the primo desert at the Salud Bug Dinner at the Witte Museum in San Antonio.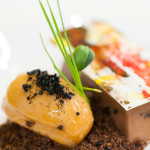 In a small container, whisk together gelatin and ¼ cup of milk to bloom. Meanwhile in a small pot bring the remaining milk and cream to boil, careful not to over boil.

Remove from heat. In another small container, slowly temper hot liquid into the yolks.

Pour yolks back into the same pot. Cook mixture while stirring non-stop until temperature reaches between 156 °F – 160 °F.

Remove from heat again and then add bloomed gelatin mixture to hot custard and blend to fully incorporate. In a medium size bowl with chocolate, slowly pour hot mixture over it while stirring until the chocolate has completely melted.

Pass the final mixture through a fine sieve and chill over ice to achieve room temperature around 80 °F.

Place crickets in a desirable silicone mold, pour chocolate mixture gently over them and set in freezer until set.

Combine cookie crumbs and cricket flour.

Carefully remove each portion, serve at room temperature on top of chocolate cookie crumble and a refreshing tart flavored sorbet, garnished with black Chinese medicinal ants.