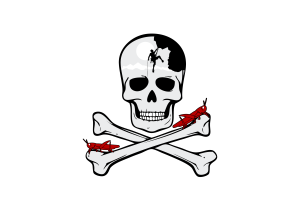 After living on the wall for one week with no physical rock ledges to sleep or stand on, I finally reached there Bismark ledge.  Today has been a much much needed rest day: slept in, lazy Cricketflours oatmeal breakfast, two cups of coffee and gear sorting.
After some whole roasted Next Millennium Farms crickets snack and C-fu mealworm soup lunch, it's trime for a little reading and and afternoon nap.  Then a little more great sorting, dinner and an early bed time.
Tomorrow is the dreaded Bismark offwidth (will require some strenuous and  free climbing), followed by 3 – 4 more days on the wall.
This wall has been every bit as rough as I imagined it would.  I feel like I've been hit by a car.  Took my first aid fall onto the rope yesterday, blowing my first ever placed copperhead (little piece of copper on a wire that you hammer into a shallow crack) and pulling the one I was placing out of the rock, hitting me in the face, giving myself a black eye in the process.  Chipped a front tooth the day before putting an open carabiner in my mouth.  Tendonitis in my right hand and elbow, swollen fingers, and enough bruises to probably be admitted to a leper colony … Gotta love the Capitan!
Despite the physical wear and tear my psyche has been very high.  Bigwall climbing is suffering and suffering sucks much more without purpose.  Climbing a BugWall to spread awareness of edible insects as a sustainable food gives me the purpose I need to crawl out of my sleeping bag bag morning.  Thank you for sharing this journey with me.
* Sorry for the lack of pictures on the sight, I don't have enough 3g up here to upload to my server, but there are now loads on Facebook, Twitter and Instagram – so follow me here for more timely updates.
Don't forget our Indiegogo campaign to benifit Little Herds with awesome edible insect food perks is still live!