Origninal, simple, and tasty.  Chapul's first cricket bar put them on the map for good reason.  A chocolate, peanut butter, and cricket combination is best served with a large dose of adventure.
Order the Chapul Chaco Cricket Bar from Chapul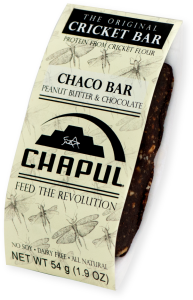 Crafted as a homage to the Chaco peoples, a pre-Columbian civilization, the Chapul Chaco Cricket Bar is a delicious blend of dates, chocolate and peanuts, and Omega-3's from flax and walnuts.