It not only pays to be first, but also to be tasty; Chapul has managed both.  Loaded with protein and fiber, this bar is like a cricketey homage to Chocolate the movie.  Hand made in a Southwestern kitchen, you can taste heat and devotion in this Chapul Aztec Cricket Bar.
To try a Chapul Aztec Cricket Bar visit Chapul's website.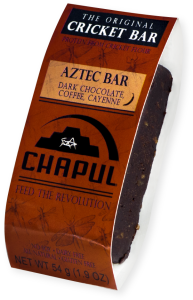 A nut-free offering, the Aztec Bar is a simple combination of dates, cocoa, coffee beans, cricket flour and a late blooming wave of cayenne heat, mixing the sweet, bitter and spicy.